Unpacking the fashion industry
Posted: 7 February 2022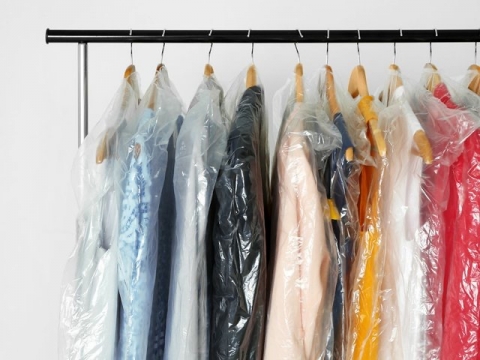 The fashion industry is well known for its extensive use of packaging. An estimated 150 billion garments are produced every year. If every garment has its own individual packaging..well, the numbers speak for themselves. As a result, the European Environmental Agency (EEA) ranks clothing, textiles and footwear fourth in their list of industries that have highest impact on our environment.
The fashion industry relies heavily on plastic and paper throughout the supply chain. Pre-consumer packaging consists mainly of textiles wrapping and trimmings to safely transport to factories. Finished garments are packed individually in plastic polybags and co-packed in corrugated boxes for overseas shipping. In this stage, protective packaging cannot be easily avoided as damaged products could lead to cancelled orders and revenue loss.
The industry is facing a major challenge in plastics. It is not only used for bags, but also in tags and hangers.  The usage of plastic could be considered a necessary evil due to its convenience, transparency and protection from external factors such as dust and moisture. However, innovative solutions could help in reducing the dependence and negate the harmful effects on the environment of plastics, such as microplastic pollution, loss of biodiversity and fossil fuel use.
The signatories of the fashion pact, a global coalition of companies in the fashion and textile industry including Kering, Adidas and Chanel, have committed to eliminate all unnecessary and harmful plastic in B2C packaging by 2025 and B2B packaging by 2030. They have also committed to ensuring that at least 50% of all plastic packaging is 100% recycled content by 2025 (B2C) and 2030 (B2B).
As consumers are becoming more eco-conscious, apparel companies around the world are developing more solutions to improve their resource efficiency and reduce their impact on the environment. BillerudKorsnäs published a global study focused on people's views of packaging sustainability and how consumers make sensible choices. According to this report, 72% of consumers would be willing to pay more for a product that is sustainably packaged. This should encourage companies to dig even deeper to find solutions for developing sustainable packaging and reduce the dependency on plastics. 
Companies like H&M are setting ambitious goals towards creating a more sustainable industry, such as eliminating polystyrene plastics by 2023. Plastic bags are being replaced by paper bags in most stores, adding an additional fee in order to incentivize people to bring their own bags. Reducing mixed materials in the composition of packaging is also being targeted.
In recent years there has also been an increase in the use of compostable mailing bags, which can replace conventional plastic mailer bags. These compostable bags can break down in a compost, but first the non-compostable stickers must be removed. Also, there needs to be a proper composting system in place for this solution as the bags are often only industrially compostable, meaning they will not decompose as fast or at all in the natural environment. Otherwise, this can lead to greenwashing, which is the 'process of conveying a false impression or providing misleading information about how a company's products are more environmentally sound. This is an important responsibility of brands, to educate their buyers on the facts.
Another alternative solution is "The Circular Polybag Pilot", a partnership that sustainable fashion platform Fashion For Good has begun with Adidas, C&A, Kering, Otto Group, and PVH Corp. The mission is to reduce the use and impact of polybags in the fashion industry by manufacturing recycled polybags.
The fashion industry still has a long way to go before it can be considered fully sustainable, but slow progress is being made. Here at Circulate we hope to speed up this transition by offering sustainable packaging to meet all types of needs!
Sources:
https://www.billerudkorsnas.com/managed-packaging/knowledge-center/articles/packaging-helps-meet-demand-for-sustainable-ethical-fashion
https://www.fibre2fashion.com/industry-article/9005/sustainability-101-the-problems-of-packaging
https://www.fibre2fashion.com/industry-article/9005/sustainability-101-the-problems-of-packaging
https://www.investopedia.com/terms/g/greenwashing.asp